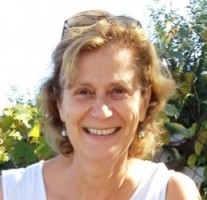 Martine Lépine
Mail: martine.lepine78@orange.fr
No. MoA: T 393 858
Martine Lépine was born and grew up in the department of Cantal, in the center of France. After a degree in mathematics, she lived for several years with her family overseas.
Her painting looks for the balance between rigor of the compositions and exuberance of the forms cut directly in the color, between geometry and tactile pleasure of the material, between structure and chaos. The nature is for her source of inspiration and vital energy.
The Lascaux  cave and the prehistoric rock painting were a revelation. Painting, for her, is to follow these original tracks, these fragile signs of passing time.
From Greece, she brought back the washed frescoes, the bright colour of the kilims, the blue, the light.
In Malaysia, she learned about the traditional batik and the painting on fabric, she brought back the strength of contrasts, the gold, the red.
Then, she learned watercolor at Mrs B. Morrison's studio in Worsley (U.K.), where she discovered Turner, the purple, the mist, the rain.
In Hélène Legrand's studio in Saint-Germain-en-Laye (France), she studied both the skill of Old Masters and the mixed technique. She admires in particular the work of Matisse, Estève and Bonnard.
She lives and works in the Yvelines and the Gard. In 2013, she founded with other painters an artists collective group called  "Prism" .